Import Contacts to Yealink Phone
Import a contacts list .CSV
You can import numbers into your Yealink phone easily if you can create a CSV file.
Exporting to CSV is different for every mail client, but if you copy paste into excel then the file can be created easily.
How to:
Log on to phone interface and click "Directory"
To find the IP address of your Yealink phone, press OK and connect via IP
Now start Internet Explorer and enter http://IPaddress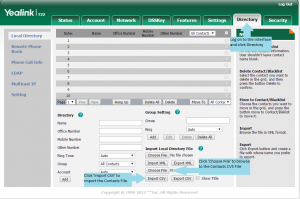 Click "Choose File" to browse to the Contacts CSV file
Click "Import CSV" to upload the Contacts file
1. The CSV should contain the name and number of your contact in separate columns. You can use Excel to save a CSV file by choosing file – save as – then selecting the file type.
2. Additional numbers can be specified as "Mobile Numbers" or "Other numbers"
3. During the import process you will be asked to specify each column