Andy is a member of Harrogate Brigantes Rotary Club. We have a policy to support as many of our Rotary clubs technical projects as possible. In this way we use our skills and experience for the "greater good".
Projects we are involved with.
"Changing Children's Lives"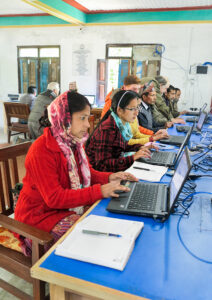 This is the largest commitment that Andisa have been involved with. It is an IT and Literacy project called "Changing Children's Lives". Based in the Nepalese valley of Panchamol, SW of Pokhara. Here we have been instrumental in designing, installing and supporting a 400km2 wireless network that connects rural schools to the internet so that students can maximise their future potential. The project has grown over a decade. Ultimately we have managed to work with a local ISP to get a fibre link installed up the mountain , feeding internet to the community centre, a dozen schools and numerous houses.
The biggest issue was maintenance. Not only was it difficult to support from the UK, the schools simply don't have the money to keep Antivirus or 365 running. The answer was an inspired suggestion from Barry Pollard our founding Rotarian. We raised £5k and set up a microloan system. The locals could now start up mini business and as families had more money, the schools could charge for lessons and start to cover the costs of IT.
Jayne handing out microloans!
The largest business started was a goat bank – a loan system where the money was replaced with livestock.
One of our biggest achievements was to work with Microsoft in Nepal, delivering training to 140 teachers in the Andhi Khola valley.
Spot the braille keyboard in the picture.
We had Microsoft Surfaces in use and on this picture, the lady teacher was blind. She typed on the braille keyboard (red pad) and the Surface read text to her. I cant explain just how proud I am of this one!
And this is why!
The first school we visited. They have so little resources that they use stones as an abacus.
We didn't have any idea about what we were doing back in 2011, but when you witness things like this you find out just how lucky you are. The whole team became hooked.
Technology Tournament Nepal.
During 2017 Jayne and Andy Morrison ran the very first technology tournament in Nepal. The competition is based on the Harrogate Brigantes project where groups of school children from several schools compete for one day.
The students are given an engineering challenge and have to build a working model of their creation.
The objective is to inspire creative thinking, collaboration and hopefully to show the students what is possible in an engineering career.
The first tournament in Nepal was held in Panchamol High School and involved 20 teams from a dozen schools. The challenge was to build a lifting bridge from basic materials including cellotape, bluetak, paper and drinking straws.
In 2018 we ran two more tournaments.  This time we held a workshop for the Himalayan Gurkha Rotary club in Kathmandu to design the task. They then coordinated the second tournamnet, March 2018.
We returned to Nepal in May 2018 to assist the Himalayan Gurkha Rotary club running the 3rd tournament in a new location – Eladi.
Our objective is for the Himalayan Gurkha Rotary club to be able to run future tournaments all over Nepal giving inspiration to thousands of students!
Project UPDATE – 2018
The Tech tournament has become a success, demonstrating new ways that the students engage with technology. We are running our 4th tournament in 2023 in a village called Duraun. The students here won the 2nd tournament.
The TT is very different in Nepal. In the UK, schools come together and take part inside a large hall. In Nepal they compete in the school playground. The parts often have to be imported because items such as "celotape", drinking strawers, weights etc cant be found.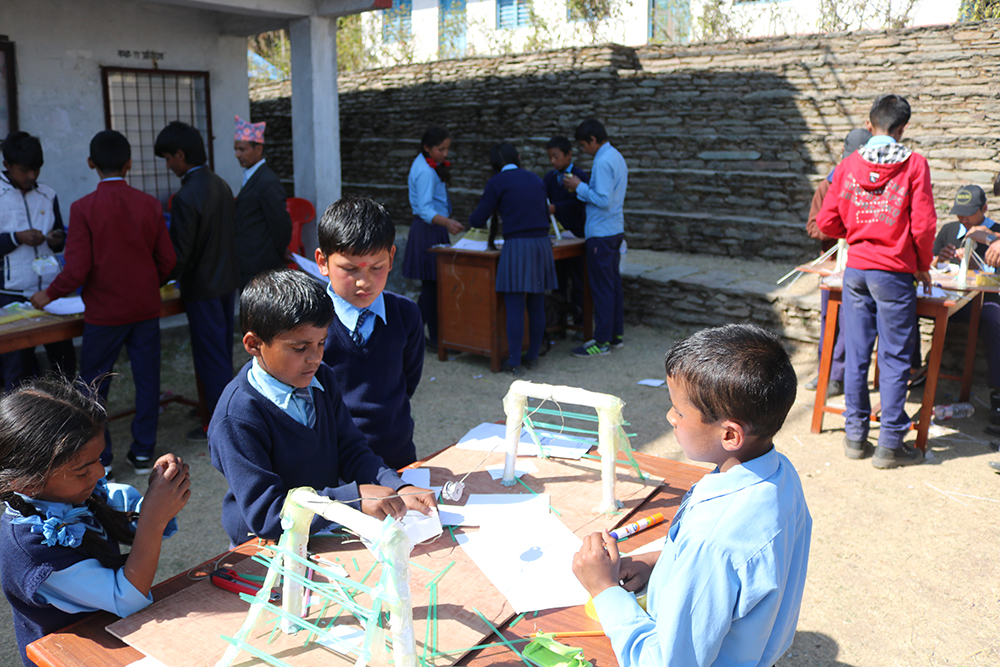 This is one team from the 2018 TT. The challenge was to build a cable car system capable of carrying "boulders" and automatically emptying the carriage at the payload end.
During the morning, the kids have to come up with multiple designs and demonstrate them in a portfolio. They decide which is the best and then build it during the afternoon. Each team has the same materials to hand.
Kids Aloud 2019
Andy was project lead for the Kids Aloud 2019 event. It is hard to express what  KA is!
However in 2019 it was a combination of 700 school students from 14 schools in Harrogate and 2 schools in Nepal. They worked together across the internet to create a brand new musical tale called Monkey Boy. This was based upon a Nepal fairy tale – the story of adversity, champions and hero's.
Finally the 2 schools in Nepal visited Harrogate to perform alongside the students from Harrogate. 300 plus students a night on the stage of the Royal Hall.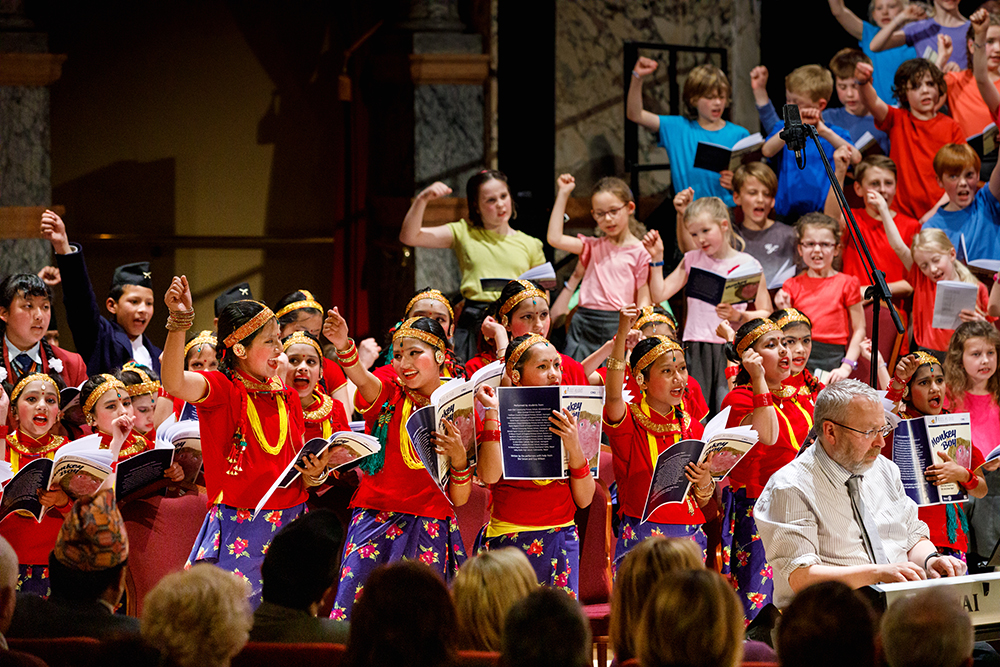 Many of the Nepal students hadn't left their own village before so this was a journey of discovery. We had to teach them how to use escalators, how to use western toilets, knives and forks.
In fact most hadn't left the valley before and they needed to experience travel just so they didn't suffer.
The project cost £85,000 in all and this was raised through various Rotary events, Crowdfunding on the Crowdfunder web site Kids Aloud 2019 – Monkey Boy – a Schools crowdfunding project in Harrogate by Harrogate Brigantes Rotary Club (crowdfunder.co.uk) We also had large donations from Nepalese contacts across the globe.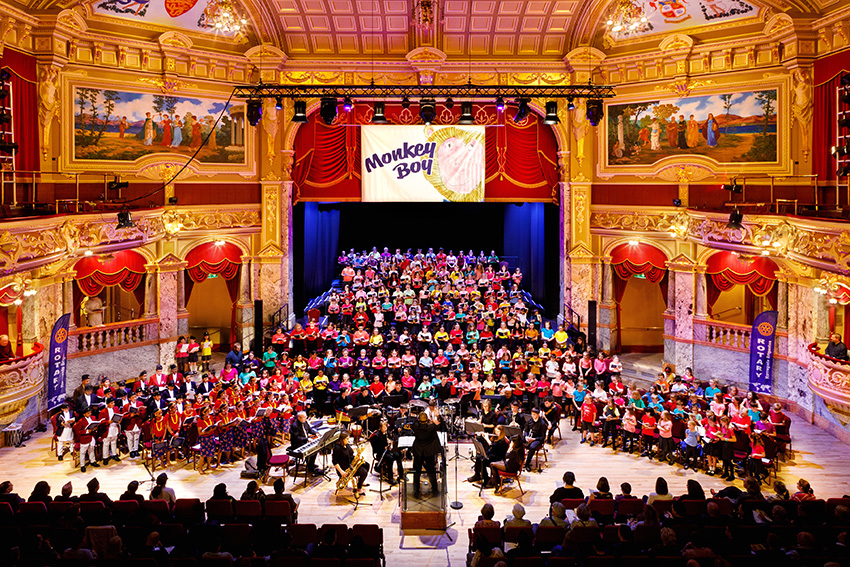 If you see any high quality imagery on the page then it has been created by Charlotte Gale of Commercial Photographer in Yorkshire – Charlotte Gale Photography
Charlotte took a month out of her busy work life to join us in Nepal. She has been instrumental in many of the projects.
Calendar Boy 2018
Callum is the support desk manager at Andisa. In his spare time he is an extrovert and an adventurer. He loves to travel and spent a year taking pictures for a naked calendar – He posed in Nepal, Wales, New Zealand, Scotland. I think we still have copies if you feel like making a donation!
He raised £3000 for charity. One client bought 100 copies and gave them to every staff member as a Christmas present.
Why?
People often ask if we get anything out of our community work.
We feel the work truly affects people lives for the better and there is no measurement that can be applied to the value of  this. However the projects are also a training ground full of new challenges around every corner.
If you can coordinate a project across two continents and time zones then your experience and expertise will grow. Hence its a training opportunity that affects how we treat our customers, how we measure our own impact on the environment, and ultimately improves technical ability and customer service.
Our knowledge is then used in the less challenging environment of your own local business networks.
Our belief is that by giving back to communities we are making a positive impact that affects our customers and staff in a great way.
We are really proud of the CSR work that we do.