What is VoIP Cloud Calling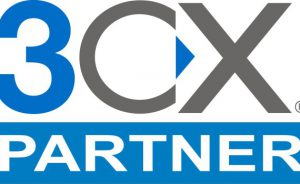 Cloud Calling works in the same way as a regular desk phone but works through an internet cable rather than a phone cable. This allows for many advantages such as having you mobile (soft phone) receiving a land line number rather than your desk phone (hard phone) for when you're out and on the go. It has a web-based administration that makes managing your phone system easy.
Using an internet connection also makes it cheaper! Similar to skype, it has very low calling costs and you don't have to pay for a phone line.
We partner with 3CX to provide this phone system. We have partnered with them for many years and believe their technology is the best in the business to supply VIOP systems.
Benefits of VoIP
Key Features:
Complete phone system – Provides call switching, routing & queueing
Purchase cost dramatically lower than a traditional hardware PBX
Scalable – Unlimited extensions and phone lines. No proprietary expansion modules needed!
Web based configuration & status indication – Easy phone system management!
Unified communications – Receive voice mail via e-mail & see user presence
Auto attendant (e.g. 1 for sales, 2 for support, etc.)
Reduce long distance and inter office call costs
No more expensive proprietary system phones – Use standard SIP phones
Eliminate the phone wiring and make moving offices easier
Easy call control, presence and extension management with 3CX Assistant
Click to Dial & Call Pop-up for Outlook & Salesforce.com
Out of the box configuration – plug in, click, and go!
Why Use Andisa's stuff
In addition to the standard 3CX support, we have our own tailored support packages. These are designed to make sure that your 3CX system is running reliably and is easily managed. The Andisa support includes;
Remote support & Diagnosis
Configuration of new users, handsets etc
Daily remote backups
Regular 5-minute monitoring of critical services
Installation of 3CX updates within version
When combined with upgrade assurance from 3CX, the package means that you will continue to have the latest features and that your system will work for your business in the best possible way.
Any other information
Evolve your communications with 3CX Phone System for Windows – an IP Phone System that completely replaces your proprietary PBX, supports standard SIP soft/hard phones, VOIP services and traditional PSTN phone lines. 3CX Phone System is far less expensive than a traditional PBX and can reduce call costs substantially by using a VOIP service provider. Its web-based administration makes phone system management easy. 3CX Phone System eliminates the phone wiring network and allows users to easily work remotely.