Call Reports on Cloud Calling
Viewing Call Reports
Step 1 – Log on
To view reports for your calls, log on to your client portal. This can be found at http://cloudcalling.co.uk. Contact Andisa for log on credentials
When you log on you will see a screen similar to the one below: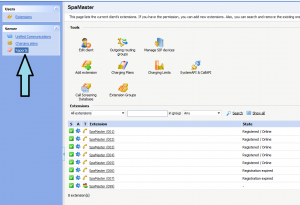 (Clicking on the extensions exposes settings that could prevent your phones from working! Be carefull).
Step 2
Click on the link highlighted in the image above. The system generates reports on line and so the screen takes a number of minutes to update and show information, please be patient and only click once.
To view different months, select from the pop down and wait for the screen to update. Again the system generates the report on line and can take minutes to update the screen, please be patient.
Export
Note there is a link to export to Excel near the top. Again this needs to generate the report on line and can take a few seconds to generate. Please click once.
(You can select which columns are exported by using the pop down menu just above the Export link).