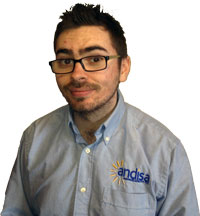 Paolo has worked for Andisa for 3 years and together with Andy and Connor makes up the technical workforce. Outside of work he loves snowboarding, playing video games and cooking. One day he's hoping to be fit enough to enjoy playing football for real as well as Fifa 2016.
His family run a local Italian restaurant called Louigi's. He has learnt his client skills and patience working as a chef and waiter before starting a career in IT.
Paolo joined Andisa after leaving the 3rd largest nationwide insurance broker where he provided desktop and server support.