Previously Andisa have used traditional desk phones and left the office calls behind when travelling. You have always needed at least one person in the office to answer phones and that person would feel exposed at busy times. For a small SME company this is a real challenge. You want to make sure the team can work well together and that we maximise our resources, rather than having a bottle neck  when you are out visiting clients.
Transferring calls to mobiles means that the call disappears from the system into the mobile network. You are never sure what answer phone message will be heard, and even if it will be checked quickly. Call transfers are also costly.
So we identified three main challenges to solve:
First, how do you make it so that the office number can always be answered without tying resource to the office.
Second, how do you make sure that customers can reach the right people at the right time. There is nothing more frustrating than being in the middle of a project but having calls filtered by the helpdesk or receptionist.
Third, how do you encourage the constant "social rhetoric" that happens inside an office even when the team is spread around the county.
We had been using 3CX phone system connected to "Cloudcalling" breakout since the early days of 3CX. We signed up as a partner in 2005 and so we were already using the 3CX phone system but I guess we had stood still with the configuration and were not taking full advantage of the features.
Releasing resource
We swapped our desk phones for softphones. 3CX includes a comprehensive PC and MAC software phone with full receptionist view showing call centre style management of queues etc. All we needed was some head sets.
However head sets turned out to be the biggest cultural issue. Even in a small team some people resisted change. Most people were early adopters and the advantages of soft phones soon  became apparent. Very quickly everyone came on line.
It was easier to "talk and type".  Then a few people asked for Bluetooth headsets because they had realised that they would be able to "walk and talk. Everyone was convinced. Now we have a standard wireless USB headset and everyone is happy. Just remember to charge it at night.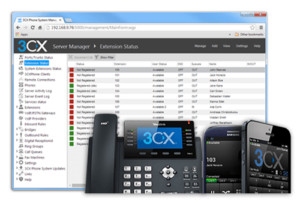 3CX  also includes a soft phone app on your PC or an app for Android or Apple phones. It works well even when you have only a small internet signal. That's why we stayed with the existing system and utilised more features.
We quickly added each persons  extension to their mobile phone and then showed them how to set custom stati so that everyone else knew when they were not to be interrupted.
The system can divert calls based on these settings so that employees still stay in control even though everyone else gets more visibility. Perhaps more importantly people can get a feeling for the number of calls being received and can jump in to help if things get too busy. They work more as a team.
The app works in the background so it doesn't take over the mobile phone. It just pops up if the office is called. the app also works well on hands free just like your mobile phone does, so your office phone can work in the car (find a layby and stay safe though). In fact if you use the the app to make a call whilst walking out of the building, the call just continues as you fall off the office Wi-Fi and onto a mobile internet signal!
Get through to the right person
The real jaw dropper was when one sales person said "I wish we could control which number our customers called. I'm fed up having to handle support calls when I'm supposed to be focussed on other things!" That was when we realised that with 3CX we could take control. Instead of giving a dedicated support number and hoping the customers called the right line, we added inbound call rules to direct the call to the right queue based on the number they were calling from! now if a customer has a contract, we can direct all calls to an engineer directly rather than going through a receptionist.
We also added two levels of queues so that if a caller isn't answered within 20 seconds, they are passed onto a managers queue. Now everyone tries to answer calls promptly even if it is to arrange a more suitable time. All calls are important!
Social Rhetoric
This was a new problem caused by the project. Because our team is now more mobile, how do they tap each other on the shoulder to get help. How do they have that quick moan in the office – off line, away from a client, how do they keep up morale by having a coffee together.
This time it was Microsoft and not 3CX that helped. One of the engineers suggested using MS Teams from Office 365. Teams can use the same head sets as 3CX but gives a more direct connection. You can easily see and chat either verbally or via text chat.
We started to use it as an "out of band" tool for chatter even when in a phone call. Very quickly it because the tool of choice for tapping on the shoulder. People even jump onto a "coffee team" to natter while having a coffee break. It means that they can keep in touch and feel part of the physical team even when out of the office.
Conclusion
Our project was an iterative one with a couple of learning steps. Most gains were made by combining best of breed solutions and making sure people could suggest changes. The outcome meant that we could stay operating during the recent lock down. That was a real success.
There are so many benefits and because we kept our 3CX system we could identify disadvantages.
Flexible working – the user chooses which device to pick up.
Always available – it doesn't matter if you are in the office or not, calls can still be picked up or transferred.
Team working – when somebody is busy you can jump in and help even if your not in the same building.
Easy setup – click a link to get the app, scan a QR code to configure.
Reduced cost – new extensions cost nothing – ZERO
Visibility – the receptionist view lets you see when to step in and help, even if you are away from the office.
The upgrade solved all of our communication challenges. Now the desk is where the laptop is. Things work more smoothly now!
We think the changes are the strongest thing we have done in the business in the past few years!
What's next?
A move to the cloud. We are shortly moving office and our telephone server will be turned off for a day. We have decided that by moving the server onto our cloud infrastructure, we will be able to keep the system running even when the office is dismantled and moved. People will work from home once again, while the office moves but for customers , it will appear as if we are still at full strength.