Cloud Calling Call Diversion
How to set up:
Step 1
To view reports for your calls, log on to your client portal. This can be found at http://cloudcalling.co.uk. Contact Andisa for your log on credentials.
You will see a screen similar to the one below.
(Clicking on the other extensions exposes settings that could prevent your phones from working! Be carefull).
Step 2
Click on "Incoming Call Rules"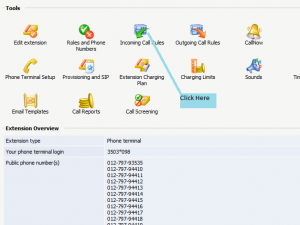 Step 3
Click here to enable or disable
Then select which rule should be active.
Afterwards, DO NOT CLICK ON OK! – This generates an additional rule.
Simply click logout at the top right of the screen.
Note:
If you select both rules then the first rule to divert to internal extensions will operate.
If you disable both rules then no phones will ring.