Cannot connect to exchange server or OWA with Http Event 15021
Microsoft-Windows-HttpEvent – Event ID: 15021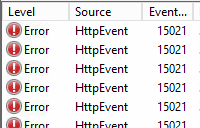 An error occurred while using SSL configuration for endpoint 0.0.0.0:443. The error status code is contained within the returned data.
This error is because the SSL certificate is not bound to the Exchange site properly. This will stop outlook being able to connect to exchange and also if you browse to OWA or ECP you will just get a 404 error.
Typically this happens following the next reboot after applying a new certificate to exchange. The event log will be full of these errors.
The solution is as follows:
Open IIS Manager
Expand your <server name>
Expand Sites
Select "Default Web Site"
On the Actions Pane
select Bindings
Under the Site Bindings
open both https entries and add the certificate to the site
Outlook , ECP and OWA should now be working