Wellspring provides a counselling service for adults and young people regardless of gender, sexual orientation, ethnic or cultural background, and to people of any faith or none.
They help deal with many different issues including:
Stress, Anxiety, Loss and change, Abuse, Abortion
Anger, Rape, Self-harm, Eating disorders
Addictions, Depression, Relationships
Faith and spirituality
You can find out all about Wellspring and also reach out for help at https://wellspringtherapy.co.uk/
It's a vital service and especially needed when we face into the loneliness that can be caused by the current lockdown.
How did we help?
Andisa partnered with Rotary Harrogate Brigantes  to provide 2 urgently needed laptops to Wellspring Therapy in Harrogate.
Brigantes funded the project through a kind donation from one of their members.
Andisa coordinated the project, procuring, configuring and then installing the new Chromebooks.
Why Chromebooks I hear you ask. Well they are great devices for communicating. I wouldn't yet pitch a Chrome book at a corporate user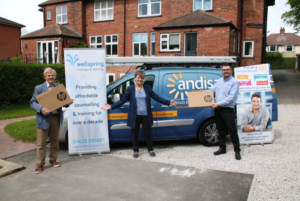 who wanted to do advanced graphics, spreadsheets etc however they are brilliant for emailing, Video Conference etc and also have long battery lives (claims of up to 10 hours from HP). This mean that they are perfectly suited for Wellspring Therapy who need to equip their Councillors so they can work from home during lock down.
Who knows what will happen after we all return to work? Although Wellspring have lovely offices in Starbeck, Harrogate they are fulfilling a growing need and having councillors working from home may be part of the answer.
Once installed, Paolo Medori (from Andisa) spent time with Sue Ball (from Wellspring), explaining how to use the Chromebooks. They are very similar to Windows laptops but they use an Android operating system. Paolo wanted to make sure the handover was as smooth as possible.
If you can help sponsor a Chromebook for Wellspring then please call Andisa on 01423 290029. They cost £250 and enabling a councillor helps improve so many lives!