When Prime Studios expanded by building a brand new film studio in Leeds they needed a local company to install a scalable phone system, Wireless and network.
Here is their own post about the new studio.
Leeds City Council Board Approves Proposals for New City Centre Studio
One of the problems was that they wanted to open the building quickly however the leased line wasn't available for weeks.
They needed a phone system that would allow billing of call costs to tenants. Prime Studios works by renting out studio and editing space to film companies for a few months at a time. Just like a traditional business centre but on a faster turn around. They needed a fast , secure and flexible system.
To us, our solution was simple:
We installed a 4G antenna manufactured by Mikroik to overcome the short term issue that the leased line wasn't available. This was operational just 4 days from order and was only delayed that long because of bank holidays and building access.
Having connectivity meant that we could then install a Ubiquiti Unifi switched network  so that we could  share areas of the office space and connect to the studio easily so that each client can have their own secure network that works all over the building.
Next we set up the 3CX phone system with a mixture of softphones and desk phones. Desk phones for the tech aware users and soft phones so that clients can use their own smartphones as extensions on the system no matter where they are. True flexibility with low initial cost.
The whole system was up and running with 20 new numbers inside two days.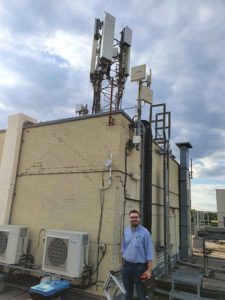 Bet we get great signal at this location! Here is the 4G installation on the roof adjacent to the local 4G cell.